Sensuous Yoga Retreat with Stina Madelaire
From 08.06.23 - 11.06.23

We are so happy to announce that the talented Stina Madelaire will once again host a yoga retreat at Glamping Skovgaardsminde. Our very first year at Skovgaardsminde we held a sold-out retreat and it was simply the most beautiful experience, both for us as hosts and for all the amazing people we got to host. So we are very much looking forward to again being allowed to create the framework for this fantastic stay.


Stina has described the whole experience on her website, where you can also sign up. Here is a selection of all the good stuff described on: www.stinamadelaire.dk/sanseligtyogaretreat

Give yourself a holistic experience that calms the system, awakens the senses and allows you to feel more...
With sensuality in focus, we explore movement, nature and delicious food at the idyllic Skovgaardsminde, located in Hou on the east coast of northern Jutland, close to Aalborg. You can enjoy it all in quiet, scenic surroundings close to both forest and sea, making it easy to leave everyday life at home and turn off the autopilot. 
My intention is to give you a breathing space and a safe space for reflection, where you can let go of having to be something for someone and just be there for yourself. And the retreat is more than just a break; it is a holistic experience where you get close to nature, close to yourself and close to others and which gives you the opportunity to let go of what fills you, sit back and feel a little more.
That's why you won't be greeted with a packed program, but carefully planned days that alternate between joint activities and pockets of time that you can use as you wish.

Day 1: Putting down roots 
Here you'll have time to ground yourself and the group with slow-paced yoga, meditation and calming breathing exercises, all of which will help you let go of what you came from and prepare you for the rest of the retreat. 
Day 2: Awaken the senses
We start the day in silence, so you can tune in undisturbed to all that you sense in and around you. Our meditation takes place walking in the forest, dinner is a feast for all the senses and we end the day by gathering around the fire.
Day 3: Create space
This day we focus on creating space both physically and mentally. Space to breathe deeper, space to embrace all that we are and all that moves within us and space to express ourselves more freely. There is extra time for you to do what you want to do most. 
Day 4: Feel the connection
On the last day of the retreat, we focus on how the deep connection to ourselves can connect us more closely to others. We work on setting intentions for the everyday life that follows the retreat, and how you can hold on to what you have discovered and integrate it into your life. 

Stina Madelaire - Your yoga teacher
I have been teaching yoga and meditation for more than 14 years and completed my first yoga teacher training in 2010 in Copenhagen.
The inspiration for my teaching comes from many different yoga traditions and teachers, but most of all from what I learn from life every day and from nature.
Finding the natural expression, the natural rhythm and what feels truly natural in us humans is one of the things I emphasize most when I teach yoga, and then it is important for me to teach the practices and philosophy of yoga in a way that is easily accessible and at "eye level" so that it can be used and make a difference where we live our lives. Right in the middle of everyday life.
I always intend to give those I teach a sense of ownership and responsibility for their own practice and process by holding a safe and loving space for curiosity, contemplation, exploration and development.
Try yoga with me at my open classes in NOR: or online at Yogavivo.

maggots
What we eat, how we eat and who we eat with has a huge impact on our experience of a meal. At the retreat, we focus on every meal being a sensual gathering and a highlight of the day. As far as possible, we serve food prepared with locally grown seasonal ingredients. The food is primarily plant-based, but fish, eggs and dairy products are also available (unless, of course, you prefer not to eat them). 
We're also not above putting a bottle of wine on the table and starting the day with the world's best pancakes. In addition to daily meals, we serve snacks, fruit, juice, coffee and tea several times a day to keep your energy up and your spirits high.
I have invited my favorite chef to prepare the food, and can therefore guarantee that the taste, healthy nutrients, sensuality, ethics and aesthetics are top notch.  

Malene Berardino - Your cook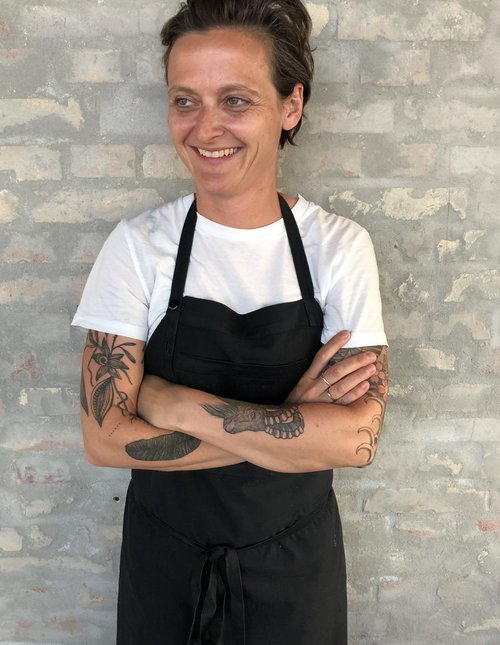 Marlene, who will be cooking our food, has worked as a chef for 23 years. From 2006-2012 she ran the popular Vesterbro restaurant FiftyFifty, which featured Japanese food and sushi on the menu. She is uncompromising when it comes to taste, aesthetics and sustainability. For Marlene, meals are something we should spend time on - both preparing and eating - and she loves the way food can bring people together and contribute to a sense of community. 
Marlene is not crazy about yoga. On the other hand, she is really good at boxing. And she is always good for a chat, and there is plenty of opportunity for that in the open kitchen in the common room.
Bonus info: If you think Marlene looks familiar, it could be because you've seen her on the Robinson Expedition, which she won in 2017. During the 50 days she spent on the desert island, she practiced her campfire skills and has become quite adept at making fires without matches and cooking over a fire. Maybe she'll share her tricks with us at the retreat...?

The site
Skovgaardsminde is a beautiful old country house from 1867, located in Hou on the east coast of northern Jutland. The area is known for its many beaches and its calm bathing water. You can explore the large Hou forest just 150 meters down the dirt road or take a trip to the water. The nearest beach is only 2 kilometers away.
You'll stay in a sustainable Glamping tent, located in a small open meadow surrounded by peaceful forest and filled with fantastic wildlife and birdlife. Each tent is furnished with 4 single beds, and outside there is a fire pit, table and bench sets and a camping toilet. You can also take a shower in our outdoor shower, where the water is heated by the sun. 
The tents are sustainable without heat and electricity, but with warm duvets, candles and solar-powered lights. 
The old yellow farm provides the setting for your stay, and we have plenty of space available for yoga both indoors in the old stable building or in the hayloft, as well as outdoors on the large south-facing terrace.
Registration & payment
Does this Yoga Retreat sound like something for you?
Then you can read more and sign up on Stina's own website:
www.stinamadelaire.dk/sanseligtyogaretreat
The price is: 4495 kr. per person.

We look forward to seeing you in June

With love
Lisanne and Karina
Glamping Skovgaardsminde